Awaken the Sharman within!
Gain insight into your life, and create clarity & direction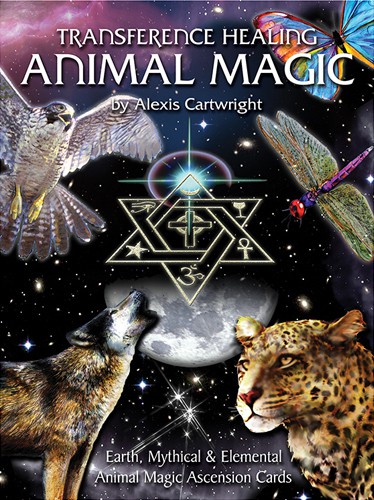 Animal Magic One Day Workshop
Immerse yourself in the magic of reconnecting to the Gaia Kingdom.
Learn how to support yourself, working with the healing powers of Animal Magic. 
1 DAY WORKSHOP – IN PERSON – SYDNEY
Friday 15th SEPTEMBER 2023
This Workshop provides you with another way to pull in the elements and frequencies of Gaia connecting you to the mother earth, which is needed to sustain the body, to heal, resource and rejuvenate, whilst providing a deeper appreciation of an aspect of Transference Healing® energetic modality.
Dive into the Animal, Elemental and Mythical Kingdoms to gain clarity and insight on what may be playing out in your life right now. This is a hugely popular publication and workshop with consistent feedback around how accurate the card divinations are.
Learn the different ways to work with the Animal Magic 56 Divination Cards and Reference Book*:
•  Learn how these Magical Oracle Cards give you insight into your life, with clarity and direction on anything playing out and how to support yourself. Learn the therapeutic qualities of the earth animals, Elemental and Mythical kingdoms and how they help your personal and spiritual growth.
•  Learn how to divine your Totem Animal, providing key themes to support your personal development and spiritual growth.
• Learn to create a Circle of Fire and experience this sacred shamanic ceremony during the workshop.
Overall, you will gain the confidence to utilise the tools, knowing how to shift and clear stagnated energy in your environment, and why this practice is powerful and vital at this time.
*The book and cards are not included in the workshop fee,
but may be purchased on this site HERE
"There is so much content and information in the workshops – I felt amazing after the training. I can see myself doing this for years to come. Thank you for a beautiful and informative workshop."
HELENA RYAN-SCULLY, IT Consultant and Spiritual Teacher
Friday 15th September, 2023
LOCATION:  Manly, Sydney   |   TIME:  10 am – 5 pm   |   FEE:  $700 incl. GST (AUD)
Inclusions
• One Day Workshop facilitated by Accredited Advanced Level teacher, Laverne Proctor
(valued at $1530)
• Animal Magic Reference Manual
How to prepare divine and work with the Animal Magic Cards and Book confidently, ongoing. (valued at $195)
• Animal Magic Oracle Bag
Contains the tools you need to run a Circle of Fire (valued at $145):
•  14 gridding tumble stone crystals
•  Selenite Wand
•  White Sage Stick
+ Bonuses
• One Hour Q&A Session with Laverne
Held one month after the Workshop as a revision catch-up. You can ask anything relating to Transference Healing® or the Animal Magic procedures. (valued at $255)
• 1 month free access to Transference Vibe Membership
Receive Livestream Q&A Support, access to meditations, topical podcasts how to activate what you really want – understanding what's calling you now.
You will learn:
how to navigate the changes with the planet and daily life
different ways to pull your energy back, reclaiming what you need and your heart's desire
how to move to a deeper understanding of your soul, deeper love
acceptance of self and others
how to work with energy tools to create a life the way you want to experience it.
See your life shift rapidly in just one month… Priceless
Please Note: You will need your own copy of the book Animal Magic and the Divination Cards.
+ Shop Discount
If you make your purchase while you are registering for the Workshop, you will receive a $10 discount.
BUY NOW!
Anyone can learn Transference Healing®. It has been designed with simple, easy to follow procedures and tools where you can expect to experience results fast by just following the guidelines.
You will be required to refer to the Animal Magic book during the training. If you don't already have a copy, you can purchase the book on this website.
If you make your purchase while you are registering for the Workshop, you will receive a $10 discount.
You may reschedule your enrolment at no charge if you provide 21 days written notice before the live event.
Your payment can be transferred to a future date or applied to a different workshop or training.
The next Animal Magic Workshop is planned for Saturday 10 September, 2022
Please email me at laverne@chironspectra.com and I will let you know when the bookings for September are open.
BOOK YOUR PLACE IN THE NEXT ANIMAL MAGIC WORKSHOP
15 September 2023
$700 AUD incl GST per person